Superior Pest Services's Approach to General Pest Control
Superior Pest Services offers a variety of programs to help with commercial general pest management. We know a "Back to Basics" approach is the most effective in dealing with any pest that may find its way into your business. As a result, we:
Inspect the premises
Identify the pest, pest damage, and conditions favorable to pest infestations
Determine the extent of the pest problem
Develop and discuss corrective action
Implement appropriate corrections
Evaluate performance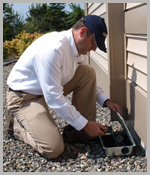 Most importantly, our work won't begin until you are comfortable with our plan. Whether it's insects, pests, or rodents in your home, warehouse, or restaurant, our staff is trained to identify and solve your pest control problems at a price you can afford. Our service area is Maine, New Hampshire and Massachusetts.
At Superior Pest Services we'll show you how our integrated pest management techniques can help you eliminate pests while minimizing risk to human health and environment.