---
Superior Pest Service: Managing Mosquitoes and Ticks for You!
With concerns about Lyme disease, Eastern Equine Encephalitis (EEE), and West Nile virus (WNV), the management of mosquito and tick populations is of utmost concern to many of our customers. Superior Pest Service offers a variety of ways to manage mosquitoes and ticks including one time service, customized comprehensive programs, and both conventional (synthetic) or natural products.
Adulticide
Adulticides are used in managing tick and mosquito adult populations. Adulticides will not completely eliminate the pest population on treated property, but will dramatically reduce the numbers. These products are applied to wood lines, lawns, and ornamental plants as needed and are effective in mosquito and tick treatment.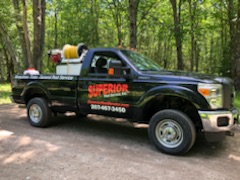 Mosquitoes and tick management usually requires several treatments spaced out at specific intervals:
•  Mosquitoes every 3-4 weeks
•  Ticks every 8-10 weeks
---
Why Settle For Inferior When You Can Call Superior?207-467-3450