---
Wildlife Out-of-Control?
Our Animal Damage Control (ADC) technicians are available to help you manage wildlife around your home or business.  All technicians are licensed by the Maine Department of Inland Fisheries and Wildlife and the New Hampshire Fish and Game Department. Utilizing a variety of methods and techniques, we will trap any pests that may be bothering you complying with state regulations.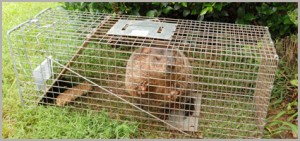 Bats, raccoons and skunks are frequent carriers of rabies, which is potentially fatal if left untreated. In fact, as many as 40,000 people each year in the United States are exposed to animals that might have rabies, and must receive preventive treatments.
Wildlife removal is not a "do-it-yourself" job! It could result in property damage and personal injury, so a licensed Animal Damage Control professional should be called. Our experienced technicians will:
Inspect and Evaluate the situation

Trap and Remove wildlife

Cleanup and Repair damage caused by wildlife

Develop and implement preventative measures

Monitor Results
---
Why Settle For Inferior When You Can Call Superior?207-467-3450